Jennifer grew up in Kirkwood, graduating from Kirkwood High School in 1984. This hometown entrepreneur then went to Saint Louis University to earn a B.A. in Communications and Public Relations. This background served her well as she envisioned a company that would serve the needs of members of her community.
"I really enjoy owning and operating my business in Saint Louis," says Jennifer. "There's a great feeling in knowing that you're helping your community and providing your neighbors with a superior product."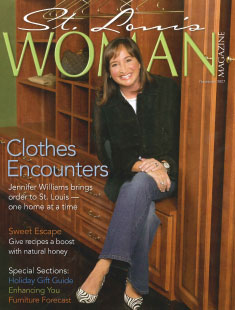 Jennifer's hometown connections make a difference, especially when it comes to the company's charitable and civic endeavors. Her list of involvements is impressive: Jennifer has donated to her local alma mater, KHS, and Saint Louis Closet Co. has installed closets at The Magic House, Glendale Lutheran, St. Peter's Catholic Church, Forsyth School, Our Little Haven, and Friends of Wings. Jennifer has also supported Children's Hospital, Fontbonne University, Saint Louis University, Forsyth School, John Burroughs School, The Maplewood Betterment Foundation, The Kirkwood Public Library, Girls on the Run, The Susan G. Komen Foundation, and The Leukemia Foundation, to name just a few.
Her newest endeavor is a working mom focused lifestyle brand called Jenny Q, which helps women navigate their busy lives while empowering and inspiring them to be their best selves.  She is a very organized, Type A kinda gal!
She is Matt's wife, and Matthew and Hallie's mom.