The garage: the first place you see when you come home, and the last place you see when you leave. The garage is such a highly utilized space in a home but often is the most unorganized, often a spot for the items that don't have a designated home. Garages are also home to the biggest variety of sizes in items, ranging from cars to garden tools. Ouch – what to do?
Enter, organization! Here are a few tips I have for keeping your ever-changing needs in the garage.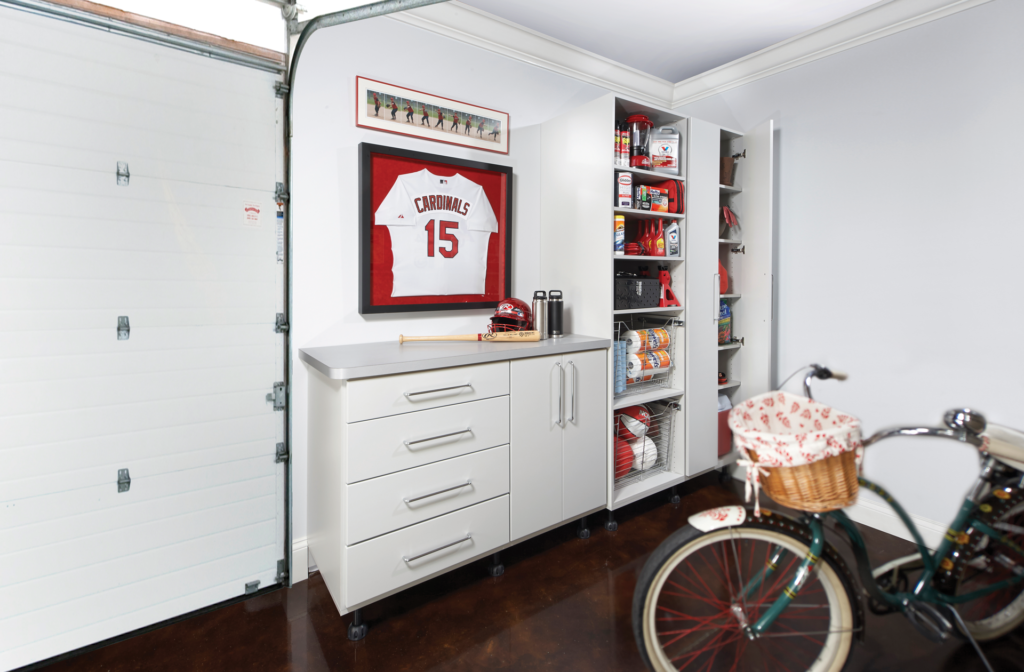 Make it adjustable.Allowing for flexibility in your shelving means your organization will suit you for years to come, whether you just replaced your lawn mower or you bought a smaller car.  If your garage is full of hula-hoops, t-ball equipment, and pool noodles right now, know that you'll be able to adjust everything in a few years to make room for lacrosse gear, mountain bikes, and tennis racquets. If your needs shift away from sporting goods and you find your garage overrun with woodworking tools and gardening equipment, no problem! Your custom adjustable shelving can be adjusted to fit your changing needs.
Reach new heights. Garages often have extra space hiding up high that is under-utilized. Consider adding shelving up high or hanging your bikes to save on space around the high traffic areas.
Utilize a potting station.One of my favorite offerings from Saint Louis Closet Co., a potting station can neatly organize your small garden tools and make it easy to quickly pot a plant in the future. Those tools you think you lost are definitely hiding in your garage somewhere, they just need to be visible!

Give yourself space. When you're designing your new setup, give yourself some room for work. It's convenient when there's a dedicated space with plenty of open tabletop to avoid using the kitchen table or kitchen island for hardware fixes. We know we've all spilled glue on the kitchen counter – so let's take that outside, shall we?
Consider Lockers. For many people, the garage serves as the everyday entrance to their homes. That's why you should consider adding lockers in this space. Every member of the family should have a place to drop their coats, shoes, backpacks, or sports equipment before they even make it inside. Lockers are as simple as open shelving with a couple of hooks, or completely customizable with baskets, drawers, or doors to keep clutter out of sight.
For expert tips and even a free design consultation from the team at Saint Louis Closet Co., stop by our showroom or give us a call.  314-781-9000