Did somebody say road trip?! My husband and I recently set out on a Covid-friendly travel adventure to Bentonville, Arkansas. Why Bentonville, you might ask? Crystal Bridges Museum has been on my list of places to visit for a long time. Described on their website… Crystal Bridges offers "an amazing and eclectic collection of American art. The galleries include American masterworks and surprising lesser-known gems from the colonial era to today. Sculptures grace both interior galleries and outdoor trails. The museum's permanent collection galleries are refreshed regularly."
How did I hear about this spot? The story starts in 2011, when I saw this destination featured on CBS Sunday Morning about Alice Walton and her museum. I always wanted to go…but with two teenagers really, how often do we travel to Arkansas to see a museum?  Finally, 2020 gave us the opportunity (with both kids dropped off at college now!) to take the first weekend alone together and make the 4 ½ hour trek from St. Louis to Bettonville.
First Impressions. We departed St. Louis in the afternoon and when we arrived in the town square of Bentonville at 8pm I was SOLD on Bentonville!  It's a truly amazing town, buzzing with people, bikers, art lovers, and families.  World class restaurants line the main square (just ask the Food Network!) and music bellowed out onto the sidewalks. The vibe was positive and upbeat, just what we needed after what seems like the longest year ever. It was as if we went back in time, but at the same time it was a hip, cool town bubbling with life.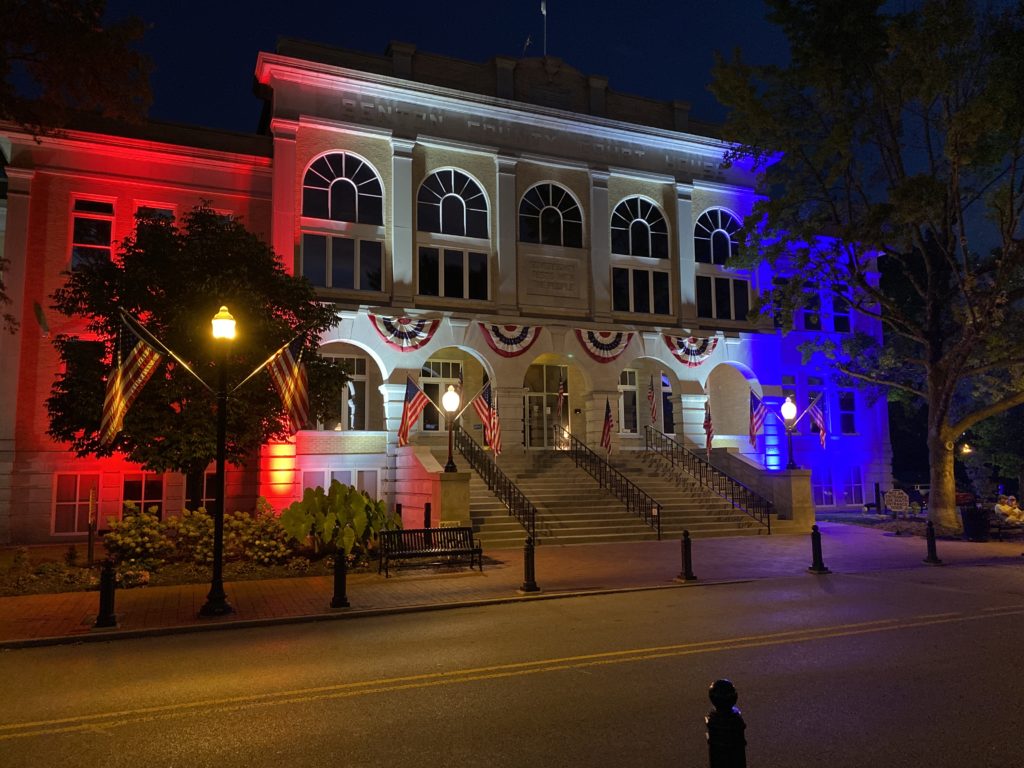 Accommodations. We stayed in the 21C Hotel– located right on the town square and a short walk from Crystal Bridges Museum. Wow, what a great spot! This hotel is an unexpected art museum in its own right with amazing and friendly staff and one of the best restaurants ever, The Hive.
Explorations. The next morning, we got up and walked to grab a coffee before hitting the museum and we were delightfully surprised by one of the best farmer's markets I've ever seen! The market was a combination of real farmers, food trucks, crafts, music, and art.  We opted to walk the path to the museum (about a 15 minute beautiful paved trail) flanked by the most amazing mountain bike trails I've ever seen.  Little did I know Bentonville is known as the "Mountain Biking Capital of the World!" We did not bike, but plan to go back to explore this avenue. There are plenty of nice bike shops to rent or bring your own – and the trails range from novice level to expert.
The Main Event. On to the museum! As a disclaimer, I am not a big museum person. I love art but have never been one to lose myself in a museum (with the exception of the 9/11 museum in NYC).  But, let's just say Crystal Bridges Museum had me at "hello."  The approach of the incredibly designed buildings, the setting of the museum amongst nature, and the outdoor art was even more than I could imagine.  From the minute we walked inside, I was taken away by some of the most comprehensive and exciting art I've ever seen.  From Colonial Art to Modern Art and everything in between, this museum captures it all.  More than the art, however, is the lighting and the architecture of the buildings – truly breathtaking at every turn. Three hours later, we stepped back outside and continued on our adventure of the outside sculptures and trails that surround the museum.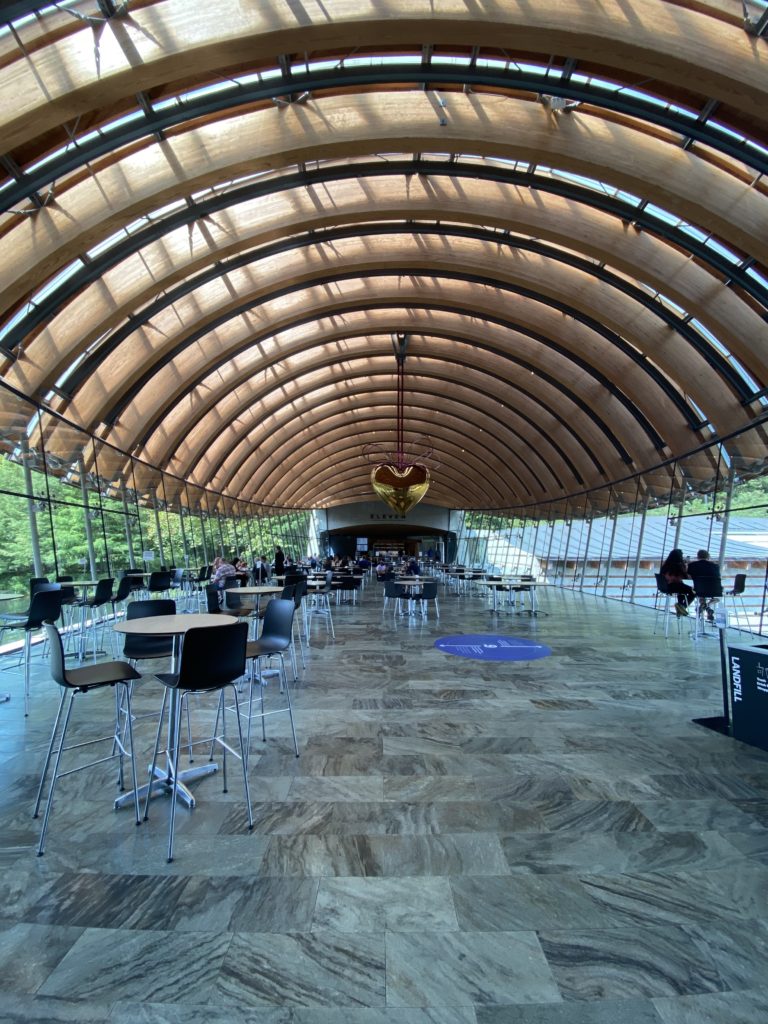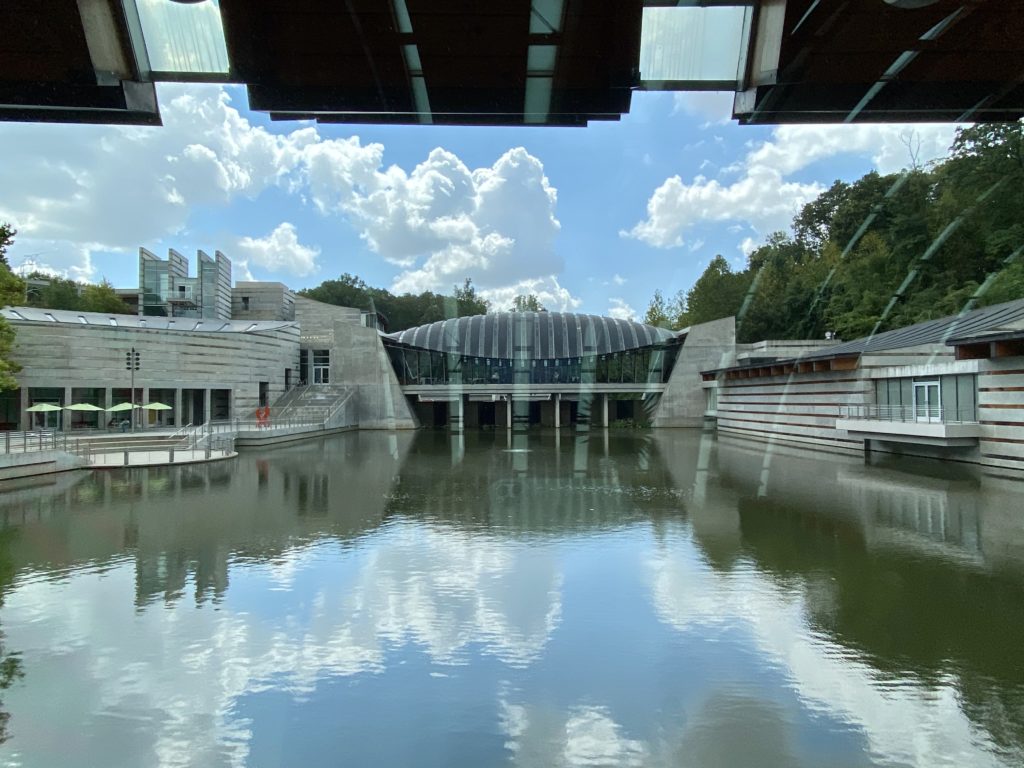 Overall, I can't wait to go back to Bentonville! We plan to take our college-aged children with their bikes for an active adventure, and maybe another stop to Crystal Bridges.
More Museum Info:
https://crystalbridges.org

Hours:
Sat | Sun 10 am — 6 pm
Mon 11 am — 6 pm
Wed | Thu | Fri 11 am — 9 pm
Tue Closed
600 Museum Way 
Bentonville, AR 72712
479.418.5700