Celebrating this holiday season looks a bit different, but we can adapt with local pride! The changes needed this year have resulted in amazing creativity from local small businesses – and this year I'm hoping for even more participation in festivities to make the end of 2020 fun and cheery.
I'm dishing out some must-try spots around the Lou where you can enjoy fun, festive pop-up holiday bars like you have never experienced before.
What you need to know
While holiday pop up bars are returning to St. Louis for the 2020 holiday season, the precautions and social distancing measures put in place throughout the year are going to make the scene look a bit different, and will be ever-changing. Make reservations, expect shorter supply, and be open to curbside pickup – and jump board early if you want to be sure to try it out!
Miracle STL
The original pop-up Christmas cocktail bar is back for the 2020 season! Miracle STL can be found in the south city's Benton Park neighborhood and has plans to be open from mid-November through December 30th with a limited capacity and masks required. For the first time ever, Miracle STL will be offering cocktails-to-go and be available for purchase on the website. Proceeds of the $10 reservation fee go to Santa's Helpers, Inc., which helps bring gifts to St. Louis Metro children.
For reservation information, fees, and more, visit the Miracle STL website and get all the latest updates on their procedures.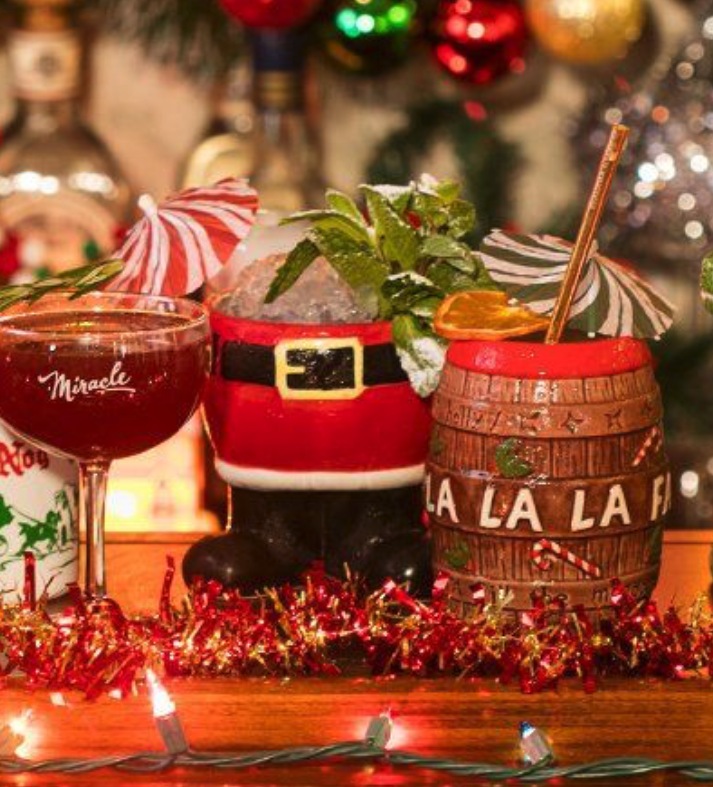 (Photo: Miracle Bar Website)
Sippin Santa
Go on vacation but never leave! Sippin Santa offers a tropical Christmas paradise complete with tiki-themed drinks and food. Sippin Santa has found itself a new location for the 2020 season at Planter's House in the Lafayette neighborhood for the month of December.
Sippin Santa will also require masks and offer indoor seating with reservations (with fees) required to enjoy this tropical holiday oasis.
For more information on reservations, visit the Sippin Santa website and get all the news on their 2020 paradise pop-up. It's the next best thing if you had to cancel holiday travel plans!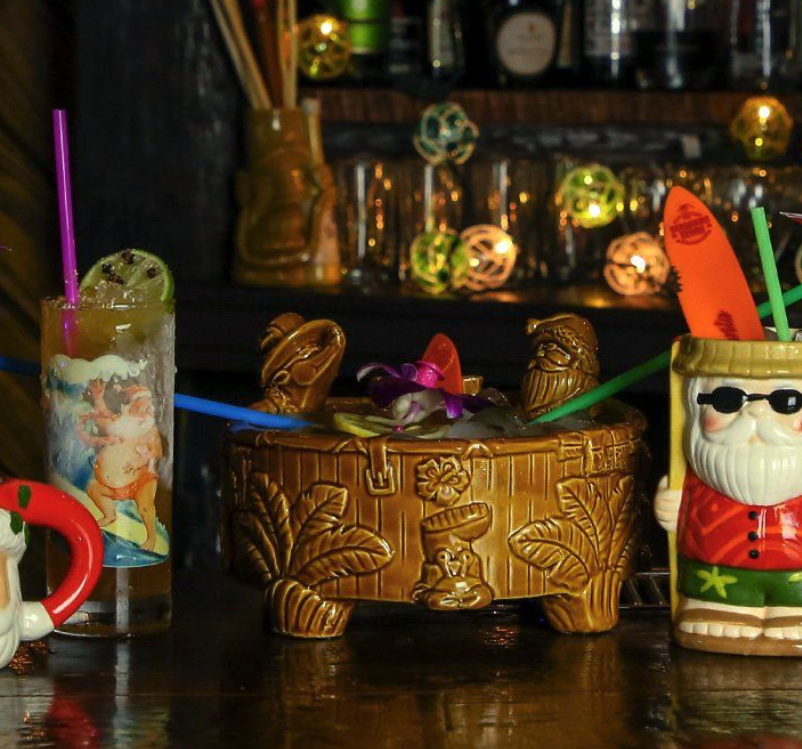 (Photo: Sippin Santa website)
LIT
Are you ready to walk in a winter wonderland? We cannot wait to check out LIT! Molly's in Soulard will be making the holiday transformation and giving guests the seasonal experience all over again in 2020. The pop-up bar will be strictly adhering to current guidelines and mandates so that all guests can safely enjoy the wonders.
Enjoy a menu of small plate items along with the infamous "12 Drinks of LIT-mas". If you really want to get in the holiday spirit, try the "Wizard of Blizzard", a delightfully shimmery martini served up in an ornament.
LIT starts on November 27 and goes through December 27 and will be open Wednesdays through Sundays during those dates. Reservations are required and are currently being taken—visit Molly's website for all the details!
Up on the Rooftop
Enjoy the St. Louis skyline when you check out Up on the Rooftop at Three Sixty, which utilizes the rooftop space of Hilton at the Ballpark. Up on the Rooftop is open starting November 20th – they will most likely be adhering to the hours of 4-11pm, but be sure to check back in case Covid-19 restrictions and limitations have changed.
No reservations are required for Up on the Rooftop and seating is indoors, but guests will be able to walk on the patio and enjoy a fire, weather permitting.
Grand Hall Holiday Bar
The Grand Hall Holiday Bar is a new pop-up to the 2020 lineup in the Lou! The team at Union Station will be debuting the Grand Hall Holiday Bar which will feature a total of five specialty cocktails—each with their own souvenir glass or mug. The Grand Hall Holiday Bar will be decked to the nines in holiday décor so you can relax and enjoy the festive ambiance as you sip.
This pop-up bar will open on November 18th and run nightly through December 19th. Reservations are not required for The Grand Hall Holiday Bar but expect limited seating.
Mistletoe
A returning favorite to Paddy O's this holiday season is Mistletoe. This ultimate Christmas pop-up bar next to Busch Stadium will be packed with glamourous décor, light bites, and your favorite holiday inspired cocktails. No expense has been spared in the transformation of Paddy O's to this timeless Christmas wonderland.
Start your holiday season right with a trip to Mistletoe on select Fridays and Saturdays in December! You can make your reservations by phone, but walk-ins are welcome as well. Larger groups can also book the Christmas party room.
Frosted
Back by popular demand at The Piper Palm House is Frosted! The festivities will party on this season with new changes in place to keep patrons safe this season. I love how this spot will also offer fun, alcohol-free options as well.
Reservations will be required for indoor seating at Frosted. Frosted will be open from December 14th through December 23rdthis season and they will be offering to-go options if you prefer to enjoy the pop-up experience from the comfort of home.
Soda Fountain
Not exactly a "bar", but a festive addition to this list for all ages to enjoy nonetheless. This family-friendly spot in the city has the cutest, decorative shakes with all the toppings. For the holidays, they're serving up peppermint milkshakes in reindeer mugs and topping them off with candy canes, gingerbread cookies, festive straws and more. They're so cute!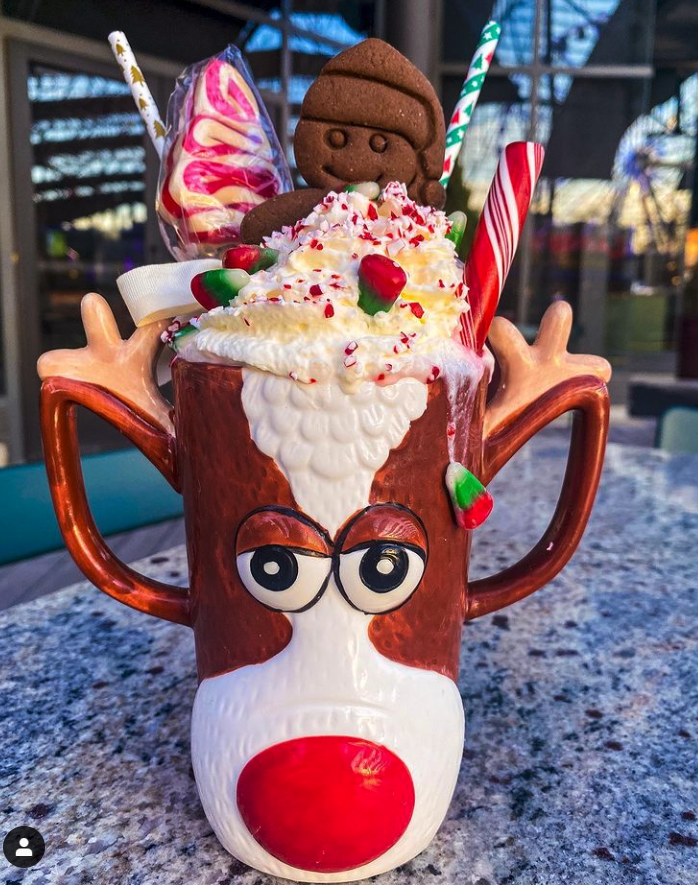 (photo: Soda Fountain STL Instagram)
Ready to Get Festive?
I cannot wait to check out all that St. Louis has to offer this holiday season and the pop-up bars are one of the coolest options around (plus, it supports local!). With the year we have had, it's time to enjoy the holidays and get into the spirit by enjoying spirits with those closest to us.
Source: For additional information about the pop-up bars around the area, check out this article on Holiday Pop-Ups in St. Louis!