The holidays look extraordinarily different this year—but that does not mean we have to skip out on them completely. Adjustments are necessary to avoid large gatherings and our holiday traditions may need to be re-evaluated and changed to safely protect our most vulnerable relatives.
That being said, it is time to get creative and think outside the box! There are plenty of ways to adapt while still celebrating with those you love. It just requires some planning, extra conversations with family, and of course – a backup plan in case someone does become ill. Some of the most important and easiest ways to safely enjoy the holidays are to:
Avoid travel—especially through large airports
Avoid large gatherings—you may need to do some Zoom calls this holiday season
Opt for small gatherings with people in your quarantine bubble
Wear a mask whenever possible and when not socially distant from others
That might seem like a bummer, but I always have some tricks up my sleeve. So, here are some of my ideas for fun, creative ways to enjoy and make memories:
Recipe Swap
Holiday gatherings usually come with Aunt Suzie's green bean casserole or Grandma's multi-layered Jell-o. Your favorite foods that you love seeing on the table may make an appearance this year with virtual or separate events. However, that does not mean you need to miss out on your favorite dish. Organizing a digital or mail-in recipe swap with your family where you exchange your favorites (or even deliver small servings to each person) is a great way to keep the traditions alive.
Family Movie Night
There are endless Christmas movies available on Netflix, Hulu, Amazon Prime, or from your very own collection at home. Zoom has a fun feature where everyone in the chat can watch the same movie together – and even chat about it, too. You may be far away, but you can still feel close if you incorporate technology.
Make some popcorn, grab sweet treats, and snuggle in for a night with your closest friends on the laptop screen.
Make New Traditions
While it can be a bummer to not see family during the holidays, there are so many opportunities to create new and different traditions within your own family unit. Whether you do a Christmas Eve cookie bake off or a Christmas Morning breakfast spread, making the most of what you have can be magical in its own way – and sometimes, the adaptations become ongoing favorites.
How I'm Celebrating this Year
Drumroll please…I have decided to showcase my Christmas spirit by transforming my garage into a one-of-a-kind Christmas living room. With my entrepreneurial hat on, I got creative this season and worked with what I had to make something that will be unique and unforgettable.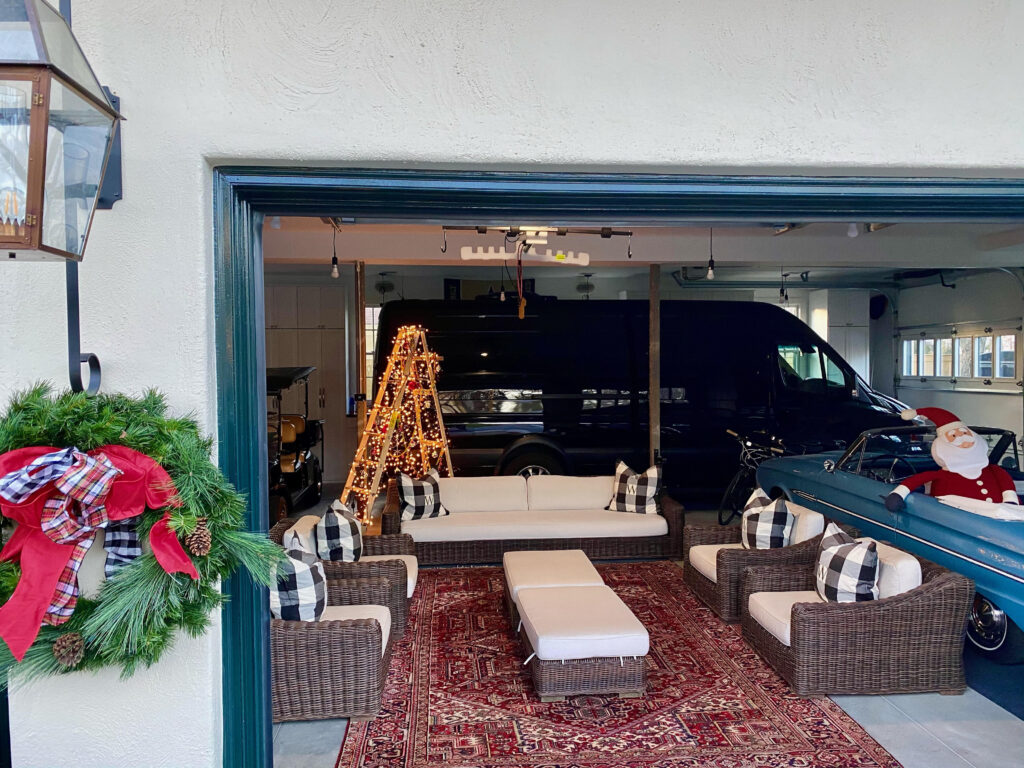 For a tree, I decorated a ladder that is usually in the garage space. I also invested in some outdoor heaters and extra firepits to be sure it is nice and toasty inside. If this year has taught me anything, it is to work with what you've got and to enjoy what you can!
We have big plans to safely share our outdoor Christmas space with our families! We plan on having some outdoor fun on both Christmas Eve and Christmas Day by inviting friends and family over at designated time slots so we can share in the festivities with limited family mixing.
However, you are Celebrating, I Hope You Are Celebrating Well!
This has truly been a year for the books! But just like any other challenge, it raises an opportunity to go out on top and enjoy the ride with the cards we were dealt. I look forward to seeing my loved ones in an adapted environment – and who knows – maybe the Christmas Garage is here to stay J I hope you and your family find a way to have a safe, healthy, and merry holiday. Have the most wonderful end to 2020—you deserve it!