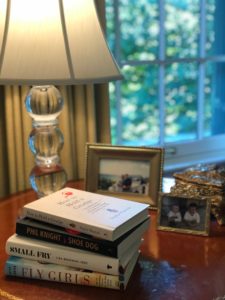 My name is Jennifer Q. Williams (Jenny Q to you) and I love to read. Opening up a good book and relaxing while I transport myself to a different time or place is something that I enjoy doing on a regular basis. So much so that sometimes I am reading multiple books at the same time, going back and forth between them to get my fix.
Reading is not only an enjoyable passion of mine, but it helps me learn and grow as an entrepreneur, working mother, wife, friend, and more. I've heard it said that when you stop reading, you stop growing and you stop learning—I don't ever want to stop striving to be a better me.
I am sharing a few of the books I am currently reading and hope that it inspires you to pick up a book and read with me.
Here's my list of What Jenny Q Is Reading Right Now:
How to Hold a Grudge by Sophie Hannah
Sophie Hannah is an internationally bestselling crime writer.  Her thrillers are "can't put down books", and I've read them all!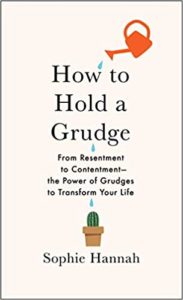 Sophie's book, How to Hold a Grudge was a gift from a friend, and touts the statement "with this brilliant and hilarious guide, you will be able to grudge your way to your happiest, most optimistic, and most forgiving self". As you can see, it had me at hello.
Shoe Dog by Phil Knight
Phil Knight, the creator of Nike, has always intrigued me as a fellow entrepreneur and I am in awe of how he created not only a huge global brand but a lifestyle—and I love his shoes!
His memoir, Shoe Dog, is a great American story about a struggling entrepreneur.  Those of us who slug through the bad parts and celebrate the good parts of owning a business can really relate.
Small Fry by Lisa Brennan-Jobs
Yes—that Jobs, as in Steve Jobs' daughter.
Small Fry a must read, whether you're an Apple fan or not, as you can get to know more of the inner-workings of the man and the myth behind the scenes, as well as learn how Lisa overcame a few obstacles of her own.
Fly Girls by Keith O'Brien
Fly Girls was recommended to me from my favorite neighborhood book store owner (thanks Cheryl—you always have the best recommendations).
This book brings to life the true story of five powerful and brave women who defied all odds and made aviation history— You go girls!
So—that's my list! There's a little something for everyone on it, and I hope that you will select one of my recommendations to read yourself if you haven't already.
Let me know in the comments what your thoughts are on my picks. Oh, and what do you think about a Jenny Q Book Club with monthly selections? Would you be interested in making this a regular thing?